Re'flekt Launches Reflekt Remot
Re'flekt Launches Reflekt Remote into the First Enterprise Augmented Reality Suite with Real Time Assistance and Content.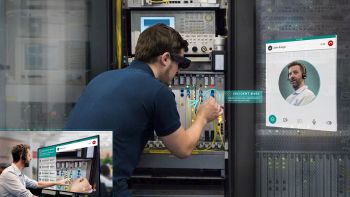 Reflekt Remote (Image: Re'flekt)
Re'flekt launched the latest member to the leading Enterprise AR Suite: Reflekt Remote for real-time expert assistance with Augmented Reality. Reflekt Remote provides instant access to expert knowledge and connects to a cloud-based incident management system as well as to AR applications created with the Reflekt Onecontent creation platform. Using the remote video collaboration tool, employees and customers can now choose between real-time assistance or on-site guidance with AR-powered instructions in mobile apps for Android, iOS, Windows and smart glasses like the Microsoft Hololens. The fusion of remote expert assistance and highly automated experiences provides enterprises with the most comprehensive AR solution to improve maintenance, operations and training for complex machinery.
"Traditional documentation no longer meets the needs of companies for simple work instructions and quick help. Our Enterprise AR Suite enables Industrial companies to replace or enhance traditional manuals with guided instructions where they are needed most, for complex machinery. No programming required and no external experts needed means increased reliability and revenue for Industry companies.", said Re'flekt CEO Wolfgang Stelzle and added: "Adding ARKit and ARCore support will provide enterprise users and end-customers access to a new generation of interactive product manuals, troubleshooting guides, and service tools for smartphones and smart glasses."
The Enterprise AR Suite will support ARKit and ARCore to expand the reach of enterprise AR applications to millions of devices. A new demonstration application, Augmented Repair, is now available on iOS and Android, showing the potential of Augmented Reality-powered documentation and applications.
"In the past, recurring inspections of our vacuum pumps were performed by our service technicians with varying levels of quality and without any reference to the actual pump. Our Augmented Reality applications now provide our service technicians with a visual toolkit to maintain a high level of quality. This will help us to reduce our maintenance costs significantly in the future.", said Carl Brockmeyer, General Manager of Leybold USA, on the benefits of using Re'flekt's platform solutions.