PX4 Original Series Air-Operated Double-Diaphragm Pumps for Paper Sizing Applications
Wilden announced that its Original Series Stainless-Steel Air-Operated Double-Diaphragm Pumps feature the performance proficiencies necessary for use in paper sizing, which is a crucial stage in the manufacture of paper.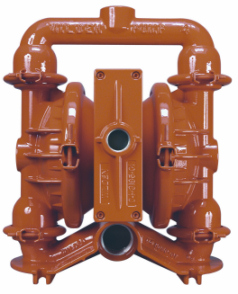 Blackmer
Sizing is a highly viscous liquid that is used during paper manufacture in order to reduce the paper s tendency when dry to absorb liquid, with the goal of allowing inks and paints to remain on the surface of the paper, and to dry there rather than be absorbed into the paper. This provides a more consistent, economical and precise printing, painting and writing surface.
Specifically, Wilden's Original Series PX4 (1-1/2") Air-Operated Double-Diaphragm Pumps, featuring the patented Pro-Flo X Air Distribution System (ADS), are ideal for the safe and efficient handling of paper sizing. PX4 pumps feature the clamped configuration, lube-free operation and can pass solids as large as 4.8mm (3/16"). The pumps are available in a multitude of elastomer options, including, but not limited to, Teflon PTFE, Buna-N, Viton and EPDM, to meet all abrasion, temperature and chemical-compatibility concerns.
Wilden's Pro-Flo X ADS offers operational flexibility and cost savings in the transfer of paper sizing through its state-of-the-art Efficiency Management System (EMS), which optimizes the Pro-Flo X ADS for the actual operation parameters regardless of the application demands or pump size. The EMS allows the operator to use an integrated control dial to select the efficiency point and flow rate that best suits the application, resulting in true cost savings.