Putzmeister Involved In Construction of the Hydroelectric Power Plant Lauca
At the Kwanza river in the Northern Kwanza province of Angola, the hydroelectric power plant Lauca is being constructed. The project is coordinated by GAMEK ("Gabinete de Aproveitamento do Médio Kwanza"), the governmental institution which is responsible for the utilization of the Kwanza ressources.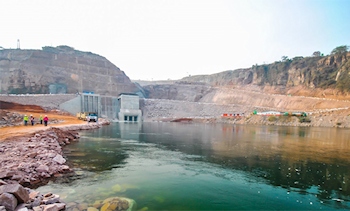 Construction of the hydroelectric power plant Lauca at the Kwanza river in Angola. (Image: Putzmeister)
Lauca, which will be the most powerfull hydroelectric power plant of Angola, will allow the regulation of the Kwanza river s course and level, so that all plants that are located downstream will be able to take advantage. Constructed with compacted concrete, the plant will have a height of 132 m, a length of 1.100 m length, and the capacity to produce 2.067 megawatts of energy.
The Brasilian construction company Odebrecht, who is in charge of civil engineering and construction projects assigned by public and private companies in the housing, energy, mining and transport infrastructure sectors in Africa, Middle East and Portugal, is taking care of the Lauca project. In Angola, Odebrecht has been present for 29 years, being the main private employer of the country. Only in the Lauca project, more than 4.000 construction workers are employed, 90% of them from Angola. The first phase of the project, which is going to be completed in August 2014, comprises redirecting the course of the Kwanza river and the construction of two irrigation tunnels.
In this project, Odebrecht is working with four Putzmeister SPM 4210 Wetkret Dual Drive systems with on-board air-compressor, whose pumping and spraying system is powered electrically or by the Diesel motor, so that the machines can be used independently of electrical supply. The equipment is mounted on an articulated, heavy duty chassis with 4-wheel-drive and 4-wheel-steering.
The SPM 4210 Wetkret series provides a spraying reach of 10 m and a concrete output of 20 m³/h. The liquid additive dosing pump is synchronized with the concrete flow, guaranteeing high precision and quality spraying. The concrete output and the adjustment of the predefined additive dosage can be regulated via remote control, so that the operator can act flexibly when facing changing working conditions in rock composition, strength and stability.