Pump Manufacturer Flux Obtains the Services of Aadiushmaa Engineers as Sales partner in Northern India
Flux Pumps India, the subsidiary of Flux Geräte GmbH with seat in Mumbai-Pune, has a new sales partner for Northern India: Aadiushmaa Engineers in Chandigarh. Both companies will work together in future and have signed a declaration of intent to this effect.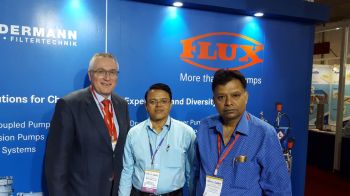 Dr. Jörg Dassow (Flux), Manoj Kumar Jain (Aadiushmaa Engineers) and Kiran Kadam (Flux) after finalization of the partnership at the ChemTech trade fair in Mumbai (Image: FLUX-GERÄTE GMBH)
Aadiushmaa Engineers in Chandigarh is a leading company for the sales and service of industrial plant and acts as a wholesale trader for various brands. "By taking this step we will be able to serve the growth market of the Indian subcontinent more effectively", according to Dr. Jörg Dassow, Flux General Sales & Manager and Director of Flux Pumps India.
In future Aadiushmaa Engineers will provide highly qualified sales and product consulting as well as a comprehensive after-sales service for numerous Flux products. These include drum and container pumps for highly-viscous media, the Viscofluxfamily, flow meters and the extensive ranges of accessories and spare parts. The exclusive sales area of Aadiushmaa Engineers is to include the Northern Indian federal states of Punjab and Haryana as well as the Union Territory of Chandigarh.