Pump Control of Up to Seven Pumps
Emotron s FDU Drives has been updated with additional functions for pump control of up to seven pumps.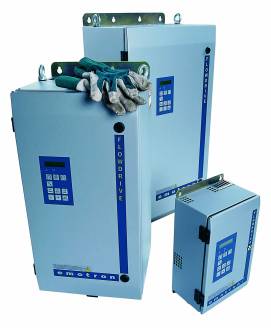 FDU Drives (Source: Emotron)
Emotron develops innovative drive systems based on simplicity and cost-efficiency. Robust solutions with focus on reliability and protection that are easy to use and with functions dedicated to water processes, pumps and other equipment.
Pump control
Using frequency inverters to control pressure or flow in pump applications reduce energy consumption. The updated FDU I/O board now makes it possible to control 2 or 6 external pumps, leading to additional energy savings while the pumps are only put in to operation when it's needed. On/ off control of the six external pumps are based on pressure or flow requirements and criteria such as equal load and operation time. By controlling the pumps on basis of load and operating time, maintenance costs are reduced because the equipment gets a lower load and a smoother operation over time. The system keeps the flow or pressure by starting another pump if one is stopped because of failure but can also alternate the master pump if it reports a fault.
Smooth operation of pumps increases the operating life of the equipment and reduces maintenance. Reduced wear and tear on mechanical transmissions, no water hammer following a pump stop and reduced need for motor controlled valves are further benefits.
The ready-to-use pump control programs solve applications without the need for external control systems. Other applications where Emotron FDU solves the problems is control of compressors, fans and also air blowers and screw conveyors at water treatment plants.
Robust
The robust IP54 enclosure eliminates the need for cabinet and facilitates an easy and safe handling and at the same time reduces costs for cabling while the frequency inverter can be mounted next to the controlled pump motor.
Dry running and jamming protection
The built in shaft power monitor gives an alarm and stops the motor if pre-programmed max or min load values are exceeded. This can indicate faults as cavitation, dry running and blocking of pipes or valve failures.
Communication
Emotron FDU communicates via serial communication with Modbus RTU protocol and fieldbuses such as Profibus DP, Devicenet, Interbus and FIP IO.