Proven Pump Now Available As a Low-priced Version
ASF Thomas, the pump specialist from Puchheim, is now launching an extremely competitive version of the proven 7006 Z diaphragm pump: the 7006 Z with a shaded pole motor. This pump features the same performance characteristics as its counterpart with a capacitor motor – but is about 50 % less expensive. Thus it sports an outstanding price/performance ratio.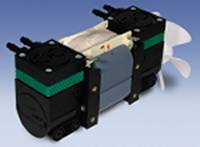 7006 Z diaphragm pump
The various models of the 7006 series have already established themselves in several applications. These oil-free pumps can be mounted in an upright or horizontal position. In addition, moulded diaphragms from various materials are available as well as either tube connectors or a threaded connection.
One special feature of the 7006 Z pump is its high final vacuum of –850 mbar. Free flow is rated at 14 l/min. It achieves a pressure of 0.8 bar during continuous operation and has a maximum final pressure of 2.5 bar.
Typical applications include gas analysis in general, testing of car exhaust gas, and the medical field: here the pump is used in diagnostics and in equipment for electrotherapy.