Powerful Waterjet Cutting Combined With Quick and Easy Maintenance
With the introduction of the high pressure pump series Streamline Pro, KMT Waterjet was able to increase the maximum working pressure of waterjet cutting machines up to 6,200 bar thereby extending the application areas of this technology.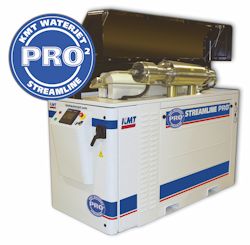 high pressure pump series Streamline Pro (Image: KMT Waterjet Systems)
Now, the company launches the ultra high pressure pump Streamline Pro-2 – the successor model to the successful pump series. Along with the well-known top-level performance, the new pump model features simplified and thus time-saving maintenance.
Waterjet cutting at 6,200 bar has many advantages compared to conventional 4,000 bar applications. Particularly when cutting very thick material, the extremely high working pressure allows for increased efficiency as well as improved cutting edge quality and conformality. Therefore, the cutting edge of a workpiece normally does not have to be reworked. Moreover, depending on material type and thickness, the cutting speed can be increased by up to 50% - in some cases even more.
High efficiency thanks to reduced maintenance
With the high pressure pump series Streamline Pro, KMT Waterjet Systems enabled cutting with 6,200 bar in the first place; with the development of the model Streamline Pro, the company can further increase the efficiency of the pump. For the new pump generation, KMT's engineers have developed the Rapid Change Intensifier, whose design significantly simplifies maintenance and repair. For example, worn out seals can be replaced in no more than 20 minutes. This is made possible by the fact that the intensifier completely does without a complex construction for the positioning and sealing of the seal head. The new patented design reduces both the effort necessary for the disassembly and assembly of the intensifier and the amount of single components to a minimum. The same is true for the application of special tools which are necessary for a seal replacement. Additionally, the durable components and the long reciprocal stroke rate result in longer lifetimes for the seals and other wear parts. In combination, these improvements lead to a significantly reduced maintenance effort and thus to longer uptimes of the whole pump. In this way, the operator can save costs and increase productivity.
KMT offers the Streamline Pro ultra high pressure pump in two engine-power classes. Working with 45 and 93 kW and a maximum pressure of 6,200 bar, the pumps achieve a flow rate of 2.84 and 6.0 l/min. This enables the operator to cut with either single or multiple heads.