Pfeiffer Vacuum Supplies Vacuum Solutions for the World s Largest and Most Powerful Particle Accelerator
Pfeiffer Vacuum has received yet another major order for turbopumps and turbo pumping stations from CERN.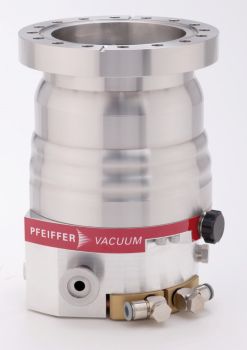 Pfeiffer Vacuum HiPace turbopumps(Image: Pfeiffer Vacuum)
CERN is situated in Geneva on the Franco-Swiss border and is the largest center for particle physics research in the world. Its main business is fundamental physics – finding out what the universe is made of and researching the basic constituents of matter. The particle accelerator LHC (Large Hadron Collider) has a circumference of some 27 kilometers and is used for colliding proton and ion beams at nearly the speed of light. The accelerated particles travel in beam lines, which require ultra-high vacuum (UHV) conditions. These beam lines are pre-evacuated with turbo pumping stations. Furthermore, turbopumps with a very high compression ratio for light gases are then responsible for generating the insulation vacuum. The insulation vacuum is necessary for the operation of the superconducting magnets at a temperature of -271 °C.
Andreas Schopphoff, Head of R&D Market Segment: "The cooperation between CERN and Pfeiffer Vacuum is based on many years of working together in a spirit of trust. We are very proud that CERN has chosen Pfeiffer Vacuum products again for its future projects. Since the pumps' application is one that has never been realized before, the technical requirements for this project are especially high. The new order is for HiPace turbopumps and HiCube turbo pumping stations that meet those high demands."