Opening of Pumps & Systems Asia 2002
Singapore, July 9, 2002 --- The PSA 2002 was been opened by the Singaporean Minister of Health and Environment Dr. Balaji Sadasivan at the official ceremony today at 10:00 local time. Exhibitors and visitors from more than 70 countries are expected to converge at PSA 2002 and HVAC Asia 2002, further establishing them as major international events. impeller.net informs you about the exhibiting highlights.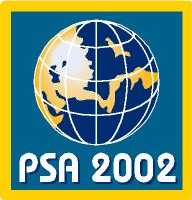 The main focus at the booth of SAER Elettropompe (Italy) is to demonstrate the extended range of submersible bore-hole pumps. The range includes pumps from 4" to 12" nominal diameter with a maximum flow up to 600 m³/h and a maximum head of 850 m.
The SERO Pumpenfabrik (Germany) introduces the new multi-function series SRZS…KK for hot liquid applications. These innovative pumps are equipped with a cooling segment that eliminates the external cooling of shaft sealing. This saves cooling water and costs for monitoring and maintenance. The extremely low NPSH value save costs in installation and guarantees trouble-free operation. The second highlight at SERO is the SEMA pump range designed for all toxic and dangerous liquids, even with entrained air. SERO Pumpen, since several years successful present at the Asian market, aims to set new impulses with the engagement at the PSA, states Beate Zientek-Strietz, Managing Director of the company, against impeller.net.
The Japanese based pump manufacturer Tsurumi presents a new oil lifter that stabilizes the functions of the mechanical seal. That new system will be applied for pumps with 1,5 kW and more motor power. The oil lifter is a lubrication device for the mechanical seal, and it forcibly lubricates the mechanical seal by utilizing the rotating energy of the lubricant. Even if the lubricant falls below the rated volume, it continues to supply lubricant to the top seal faces as well as the bottom seal faces. The oil lifter stabilizes the lubrication and the cooling of the mechanical seal.
VSX – VOGEL SOFTWARE (Germany) presents the relaunch of impeller.net. impeller.net® – the online pump magazine with the global PumpSelector – provides the community with the latest information from the industry and supports buyers in their search for the suitable pump. It includes an extensive pump database of presently 12 major pump manufacturers.
Further exhibition highlights will be presented here at impeller.net in the next days.