Non-Woven Cartridge Market to Top $5 Billion In 2019
The market for cartridges to remove particles from liquids will grow to over $5 billion per year by 2019. This is the latest forecast in Cartridge Filters: World Market published by the McIlvaine Company.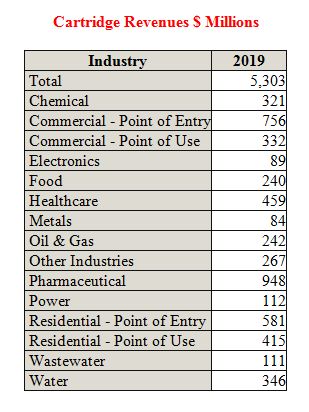 McIlvaine
The pharmaceutical industry will lead the way with purchases approaching $1 billion. Disposable process equipment has seen dramatic growth in the past few years as drug manufacturers adopt single-use systems to reduce cleaning, sterilization and their associated validation costs. Shifting from traditional stainless steel to disposable process equipment can reduce biopharma manufacturing costs by 8-9 percent per batch and overall capital costs by 21 percent.
In applications where hazardous materials are being processed, such as cytotoxic drugs or potent biological materials, closed single-use systems offer additional protection to operators and maintenance personnel. A variety of fibers are available to allow non-woven cartridge suppliers to offer a range of efficiencies and operating temperatures.
The commercial point-of-entry market is growing rapidly in Asia where office buildings are being constructed in ever growing numbers. The quality of municipal water is often suspect. Non-woven cartridges are used to further purify the water used in the buildings.