Non-Clog Sludge Heat Exchanger Pump Package
Clogging problems in sludge heat exchangers, pipework, valves and pumps in local authority and industrial Wastewater Treatment Plants is a thing of the past when using a PSL Sludge System as supplied by Pump Systems Ltd.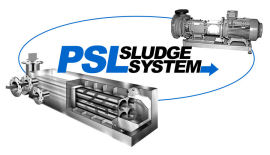 Unlike traditional sludge heat exchangers and spiral sludge heat exchangers which can clog with rags and ropey fibres, a PSL Sludge System consisting of a Vaughan Chopper Pump and a Lackeby sludge heat exchanger ensures that clogging problems do not occur.
The heart of the PSL Sludge System is a Vaughan Chopper Pump which preconditions solids, rags and ropey fibres prior to the sludge heat exchanger and guarantees a non-clog sludge heat exchanger system. There is no need to use macerators or munchers as the Vaughan Chopper Pump performs both functions of pumping and preconditioning the sludge prior to entering the sludge heat exchanger.
To meet the requirements for the heating or cooling of sludge in Wastewater Treatment Plants, a Lackeby sludge heat exchanger is used with the PSL Sludge System.
This all stainless steel, insulated high performance sludge heat exchanger has large channels to provide a wide throughput area that keeps pressure loss low and minimises the risk of clogging. The unique patented open turning chambers contributes to a compact design that is simple to install. Inspection, disassembly and maintenance are made easy because the turning chambers are mounted on a common flange at each end of the heat exchanger. The turning chambers provide even higher heat transfer by equalising the sludge temperature profile.
Information about the company
Established in 1984, Pump Systems Ltd is a specialist supplier of industrial pumping equipment, mixing systems and accessories throughout New Zealand and Australia. The main area of expertise is solving difficult solids handling problems in industry procession plants and Wastewater Treatment Plants. The company Head Office is located at 181 Wordsworth Street in Sydenham which is centrally located in the city of Christchurch, New Zealand. More information you can find on www.pumpsystems.co.nz