Nocchi Pentair Water Presents CPS 20 Variable Speed Booster Systems
CPS 10 develops in to the new series of CPS 20 booster sets, which are user friendly and save energy.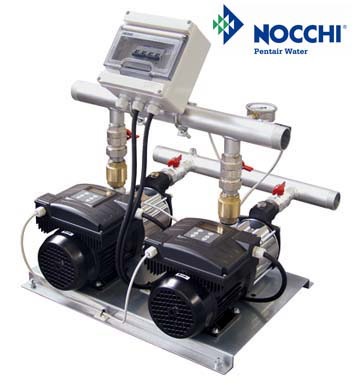 Nocchi Pentair Water
Each pump installed in the system is equipped with a frequency changer directly assembled on the motor.
The two CPS devices switch the starting order of the pumps at each working cycle maintaining constant pressure in the system.
The booster set consists of:
2 variable speed electric pumps connected in parallel
1 pressure sensor for each electric pump
Suction and delivery manifold in galvanized steel
Basement with silent block
Protection panel with magnetothermic
About Pentair
Pentair is a global diversified operating company serving the commercial, industrial, municipal and residential markets through innovative solutions under strong brand names. Pentair's Water Segment – including global Filtration, Flow Technologies, and Pool and Spa businesses – helps deliver safe, clean water to people who need it. Pentair's Technical Products Segment helps protect electrical and electronic equipment and the people who use it. With 16,000 employees worldwide, Pentair generated 2007 sales of $3.30 billion