New Universal Power Cell with Ethernet
Sensing specialist Vydas International, has announced the latest ETHERNET addition to the innovative range of high performance "Hall Effect" power sensors.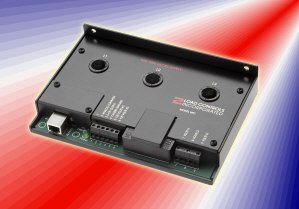 (Vydas)
The New UPC-E (Universal Power Cell Ethernet) manufactured by Load Controls Inc (USA) has been designed specifically for precision process monitoring & control in particular where inverter or variable frequency drives are fitted. The Universal Power Cell, now with Ethernet communications, is designed to cope with the most difficult of motor load sensing tasks when other power sensors and motor load controls are unable to function reliably.
The Universal Power Cell (UPC-E) offers a new approach to remotely monitoring pumps and process machine motors by using the benefits of Ethernet communications. A large city in the USA is at this time evaluating this exciting concept and is considering the new UPC-E for monitoring pumps, city-wide, over the internet.
The UPC-E has a built in web server. You type in an address like 192.168.123.2 . This is an IP address which identifies the sensor on a network. You will then arrive at its HOME PAGE and have links within its "site" to make scaling adjustments, setup UDP (machine code) outputs through a "PORT" to a specific machine or to all machines that listen on that port.
The versatility of the Universal Power Cell combined with Ethernet Control and Communication Embedded Web Server allows viewing with your browser to change settings on the fly during a machine or process cycle. Within your browser, you can set full scale horsepower/kilowatts to match the motor, set response time to average the load for a smooth signal, choose how often to receive data or respond to UDP or HTTP requests.
The system uses TCP/IP and UDP Protocol with 10 Base T 10 Megabit Ethernet Connection. In addition the sensor has a 0-10 Volt DC Analogue Output, which can feed to a local monitoring display or to assist with troubleshooting. How the packets are formed is the software part of the specification. In the UPC-E_s case it's TCP/IP. Every computer or device must go to a port but you cannot just parallel connect wires together.
The UPC-E Universal Power Cell is a Motor Load Sensor that monitors power (HP or KW). It works on both Fixed and Variable Frequency Power and has an Ethernet Connection and an Analogue Output. It also works on single phase, DC, and brushless DC. The UPC-E Universal Power Cell, just as the standard UPC, has Three Balanced Hall Effect Sensors, each with a flux concentrator. Each phase passes through a window. A voltage sample for each phase is also taken.
The Hall Effect Semiconductor does a vector multiplication of the current flow and voltage, which also calculates the power factor. The output is proportional to power (HP or KW). In some cases, the average power signal may be more useful than instantaneous power. The Response Adjustment slows the response of the Universal Power Cell. Adjustment is made with the Ethernet Connection.
The control of many process machines such as grinders, mills, mixers, rollers, pumps, compressors, conveyers etc may be improved dramatically by sensing true power instead of current. The Universal Power Cell is a unique product that now makes this possible under all operating conditions. The UPC accurately measures true electrical power drawn on the input to any industrial electric motor and performs exceptionally well in applications on the "output" of variable frequency or inverter drives.
Wave shape is likely to be poor in these circumstances or power factors may be very low (down to 0.1), but is no problem for the Universal Power Cell. Conventional CT (current transformer) based power sensors are not suitable for such conditions and will, if used, produce gross power errors (and thus load errors) due to limitations in bandwidth and sensitivity.
The UPC is truly "Universal and is unique, and is suitable for any 3 phase, single phase AC or DC motors all in one model. The UPC also DOES NOT use CT_s (current transformers) or external VT_s (voltage transformers) and its full scale range may be adjusted by the user to accommodate any motor size up to 120KW. One model does it all!
There are many suitable industrial applications but the product is particularly suited to mixer "process endpoint detection" where by measuring the power drawn by stirrer or paddle drives, the Universal Power Cell is sensitive enough to detect minute viscosity changes on machines ranging from laboratory sizes to large production machines. Power changes may be used to indicate the start or end of a cycle, viscosity end-point or overload.
Applications include mixture viscosity, tool condition, optimum feed rate, pump or fan flow, beginning or end of processes, detecting obstructions & overloads or loss of load (prime).
The product may be used in a large number of industries, in fact anywhere that electric motors are used such as the food industry, chemical, gas, oil, water treatment, building industries, machine tools and many more.
Installation is simple with no hassle, since you don't need to wrestle with external voltage and current transformers. This also saves considerably on installation costs.
A range of accessories is available including both analogue and digital power displays and trip units. A panel mounted power and energy meter (KWH-2) is also available for use in processes such as the mixing of rubber, dough and clay which all respond to energy control.