New Tube and Fittings Supply Allicance between Parker Hannifin and Sandvik Materials Technology
Thousands of fluid instrumentation users will now be able to cut costs following the introduction of a new supply service from Parker Hannifin.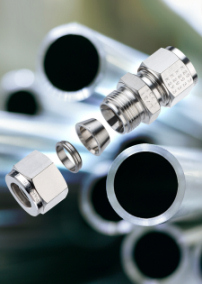 Parker Hannifin
Complete packages of tube fittings and tubing can now be purchased via a single order, thanks to an alliance with Sandvik Materials Technology.
The agreement brings together two of the world s best-known players in the fluid instrumentation market. In addition to simplifying purchasing, the sheer volume of Parker s business means that it has been able to secure Sandvik tubing at rates that are highly market competitive and that do not compromise on quality.
A further advantage of the new service relates to the underlying product quality control. In today's cost-conscious climate, users may be tempted by vendors that focus purely on lowest price and may run the risk of compromising quality. Choosing Parker/Sandvik packages locks users into an all-embracing quality system that is not only cost competitive but also ensures fluid instrumentation tubing components have genuine integrity, and perform to specification — vital for plants processing harsh media, or in corrosive environments.
This quality control begins with an audit trail for the raw materials. Sandvik melts its own steel to ensure quality control from the point of steel melting, right through to the finished product. This level of attention to detail extends throughout the design and manufacturing chain up to and including verification of performance by independent third-party test houses.
"Tube quality is critical for the correct performance of our product" says Parker Hannifin s Sheldon Banks. "Our aim is to provide a high integrity connection every time with our range of connectors – anywhere in the world. Working with Sandvik allows our customers to benefit from a level of quality and total cost competitiveness that we feel gives us the edge".
"We believe that this supply initiative demonstrates what can be achieved when like minded organisations work together to maximise the potential for their products. We are reserving mill capacity in order to meet the expected demand that this agreement will bring" says Peter Rose of Sandvik Materials Technology.
Parker Hannifin s alliance with Sandvik covers seamless Instrumentation tubing in 316/316L stainless steel, plus a range of the most commonly-used exotic alloys including 304/304L, 6Mo, 321, SAF 2507, 625, 825 and Hastelloy C276.
In addition to serving the mainstream market for stainless steel tubing, Sandvik is well known as a pioneer of engineered materials for dealing with the exceptionally harsh pressure and corrosion-prone conditions faced by users in the offshore oil and gas industry.
Parker Hannifin itself is renowned for its tube fitting range, and has earned a reputation worldwide over many decades for reliability and innovation. Its range of threadless tube fittings includes not only industry standard twin-ferrule compression types — which feature the unique corrosion-resistant Suparcase ferrule technology — but three further fitting innovations to allow users to make tubing connections faster, smarter, cleaner and safer.
The company s latest innovation, Phastite, delivers friendly compression-style assembly to high pressure connections up to 20,000 PSI — providing a cost-saving alternative to welded and cone-and-thread connections.
About Parker
With annual sales exceeding $12 billion, Parker Hannifin is the world s leading diversified manufacturer of motion and control technologies and systems, providing precision-engineered solutions for a wide variety of mobile, industrial and aerospace markets. The company employs approximately 62,000 people in 48 countries around the world. Parker has increased its annual dividends paid to shareholders for 52 consecutive years, among the top five longest-running dividend-increase records in the S&P 500 index.