New Submersible Slurry Pump
Grindex' new slurry pump series Bravo is designed for really abrasive applications in mines and quarries and alike. Slurry and other fluids with high concentrations of sand and stones normally wear out the hydraulic parts of the pump. Grindex has solved ...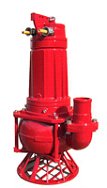 ... the wear problem by producing hydraulic components in the Bravo pumps in Ni-Hard 4, one of the hardest materials available today.
The impeller is also designed to withstand the wear. The Bravo pumps can deliver between 30 and 130 litres per second.
Grindex, a world leader of submersible drainage and sludge pumps, completes its program with the new Bravo-series. The Bravo pump is designed for one of the most abrasive tasks, pumping liquids with high concentration of sand and stones. The wear is reduced by choosing Ni-Hard 4 for the hydraulic components. Bravo is available in five different sizes with capacities up to 130 litres per second.
At dredging works, for example, the sand and stone in the water wear out a regular pump very fast. Earlier we have been unable to do business with our standard pumps because they can't handle the wear well enough, says Gunnar Benselfelt, Marketing Manager at Grindex. The Bravo pump series gives us the opportunity to do these businesses and completes our pump range perfectly.
Bravo, made for tough environments
Typical applications include dredging, cleaning of settling ponds, coal and ore slurries, bentonite, coal washing water, sewage treatment plants, steel works, quarries, mines and many other industries. All BRAVO pumps are designed for continuous work in demanding environments, where pumps with very high durability are needed. Bravo can handle liquids with pH values from 4-10.
The special designed impeller creates a strong vortex in the pumped media that carries most of the solids/abrasives through the pump housing. This minimizes the wear on the impeller.
The agitator creates a downward jet beam that enhances the efficiency
The pumping is even more efficient thanks to the agitator. Placed on the impeller, the agitator creates a jet beam downwards that feeds the impeller with high-density material.
Apart from the hard material Ni-Hard 4, the Bravo pumps are also equipped with a powerful 4-pole low speed motor to enable pumping of heavy slurry. The pumps are available in motor sizes from 5 to 40 kW and can be equipped with different motor protection and surveillances, depending on customers need.
Facts about Grindex AB
Grindex develop and manufacture submersible electrical drainage, sludge and slurry pumps. The company was founded in 1940. In 1960 the production was altered to focus on submersible electrical pumps for the construction and mining industries. Since then the Grindex has supplied over 240,000 pumps to more than 100 countries.
Grindex production program includes approx. 50 different models for all needs. Drainage pumps are available with capacities up to 330 litres/sec. and maximum head of 100 metres. Sludge pumps offer capacities from 7 to 45 litres per second and maximum 42 metres height of delivery. Slurry pumps are built for pumping liquid containing abrasive slurry, sand and larger particles. Grindex is represented in more than 50 countries. Operations are quality certified as per ISO 9001 and environment certified as per ISO 14001.