New Single Stage Centrifugal Pumps MG 1 and MG 2
SAER is proud to announce that during EIMA Exhibition, that will take place in Bologna from November 15-18, 2003, SAER will show a new production of flanged single stage centrifugal pumps according to UNI-EN 733 norms, coupled with an electric motor type B3-B5 with joint.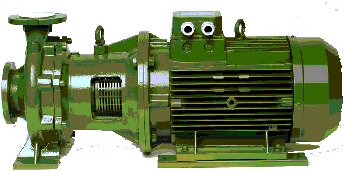 name of the series : MG-1 (version without motor) and MG-2 (version with motor)
number of models : 57
power from HP 7,5 to HP 100 – 2 Poles
max. head : 100 m
max. flow : 255 m3/h
available versions:

--cast iron G25

--stainless steel INOX AISI 316 (melted and precision casted)

--marine bronze G-CuSn10

mechanical seal : standard silicon carbide – Alumina Oxide (other types on demand)
pump shaft : supported by bearing
coupling directly installed on the pump shaft
electric motor : B3 – B5, IP 55 protection
The production will be starting in December 2003 and catalogues and price lists will be available at the end of November 2003.
This version has been designed following UNI9490 anti-fire rules and to obtain a better price compared to the classic pump.