New Range of Centrifugal Pumps
SAER Elettropompe has announced the extension of its centrifugal pump range by adding the new IRX and TM series. The pumps are available in different materials to better meet clients' requirements.
The IRX Series
The electric pumps IRX-IRX4P can be used in water treatment plants, where acid chemical agents are applied as well as in several industrial applications.
The IRX is a single-stage centrifugal electric pump coupled by means of a support, to an asynchronous motor, closed type, with external ventilation. The pump body is in compliance with UNI EN 733 standards. The motor group and the rotating part can be taken off without removing the pump body from the plant pipes. The impeller is available in closed design and keyed to the shaft.
The temperature of the pumped liquid ranges from -15°C up to +120°C (max. ambient temperature is 40°C) and special versions are available upon request. Its capacity ranges from 120 m3/h at 1450 R.P.M. up to 250 m3/h at 2900 R.P.M. with a max. head up to 97m. The max. operating pressure is 10 bar.
Pump materials
pump body: AISI 316 (cast)
impeller: AISI 316 (cast)
seal holding disc: AISI 316 (cast)
support: cast iron
rotor shaft: stainless steel AISI 431 or DUPLEX stainless steel according to the pumped liquid
mechanical seal: silicon carbide – tungsten carbide – viton
Threephase asynchronous motor
Protection: IP55
Standard tension: (220V - 240V) - (380V-415V) - 50 Hz
(380V-415V) - (660V-720V) - 50 Hz
Insulation: class F
Tolerances
Pump: ISO 9906 Appendix A
Motor: C.E.I. standards
The TM Series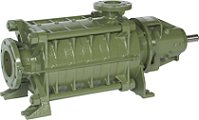 The new centrifugal multistage horizontal pumps of the TM series are used in irrigation systems, systems of high pressure lifting, refrigeration, heating, cleaning, in boiler systems, in condensed extraction and in fire-fighting systems.
The centrifugal multistage horizontal pumps are driven by elastic or hydro-dynamic coupling, with an anti-clock wise rotation.
Operating data
flow rate: up to 230 m3/h)
head up to 400 m)
speed 1450 – 3500 R.P.M.
inlet PN 16)
outlet PN 40)
maximum working pressure 40 bar
temperature of pumped liquid: min. -15°C. max. 120°C)
ambient temperature (group of electric pumps): max. 40°C (please request verification for higher temperatures) )
Pump materials
impellers and diffusers: cast iron EN GJL 250
suction body, delivery body and stage casing: cast iron EN GJL 300
other casted components: cast iron EL GJL 250
shaft and protection bushes: stainless steel AISI 431
tie rods: carbon steel
The TM series guarantees performance with tolerances admitted by standards UNI EN ISO 9906 Appendix.