New Pumps for Painting and Surface Treatment Applications
To expand their product range for painting and surface treatment technologies, KSB launched two new vertical low-pressure centrifugal pump models in early July 2005.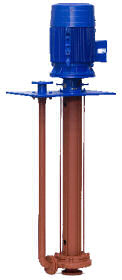 Etanorm-GPV-W, immersion depth 1500 mm, designed to pump fluids in painting and surface treatment applications (KSB Aktiengesellschaft, Frankenthal)
Etanorm-GPV and Etanorm-CPV have been developed for vertical wet-well installation in closed tanks under atmospheric pressure. Pumps of these type series can be supplied for installation depths ranging in 250 mm steps from 350 mm to 2000 mm.
Two versions of shaft bearings are available. On design D (dry), also referred to as cantilever design, the greased rolling element bearings supporting the shaft are located outside the fluid. The fluid temperature for this design is limited to a maximum of 70 °C. With design W (wet), engineers aimed for larger installation depths and therefore equipped the discharge cover of the pump with a product-lubricated plain bearing made of high-quality, wear-resistant silicon carbide. This model is suitable for fluid temperatures up to 95 °C.
The material variants, cast iron or stainless steel, have been selected to handle neutral degreasing and phosphating agents, wash water with degreasing agents as well as dipping paints. Replaceable casing wear rings prevent possible wear on casing and impeller. Both type series incorporate the proven Etanorm standardized pump hydraulics, sold over a million times, which are known for their excellent efficiencies.