New Pressure Boosting Units
KSB's new pressure boosting package units of the Hya-Eco VP and Hya-Eco K series are equipped with two to three high-pressure pumps.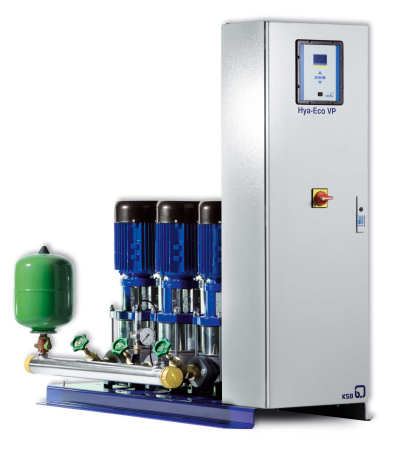 Fully automatic Hya-Eco VP with two to three high-pressure pumps (KSB Aktiengesellschaft, Frankenthal).
They are among the novel products the German pumps and valves manufacturer will be presenting to an interested audience at this year's trade fairs SHK in Essen and IFH in Nuremberg.
The units are modestly priced "entry-level" models offering two different control modes to meet user requirements. The pumps either start one after the other in cascade (Hya Eco K) or operate at variable speed (Hya-Eco VP) by means of frequency inverter in order to ensure a constant system discharge pressure.
Every single Hya-Eco VP pump is operated via a frequency inverter that is mounted in the control cabinet. The output is matched to actual demand by starting or stopping individual pumps. Automatic pump change-over ensures evenly distributed utilisation of all pumps. Each pump features two standard volt-free change-over contacts for fault indication when required.
The units meet the requirements of the French drinking water regulations ACS, which are among the most stringent in Europe. The valves and main components installed comply with KTW recommendations on the use of elastomers in drinking water applications and are DVGW-approved (German organisation for technical standards in the gas and water industries).
The pumps feature corrosion-resistant hydraulics and a pressure boundary designed so as to keep entrapped air away from the mechanical seal. This prevents dry running and increases the pumps' service life. Hya-Eco units are used for drinking, service, fire-fighting and cooling water supply.