New Personnel and Career Growth with SEEPEX
SEEPEX is pleased to announce the promotion of two tenured team members and a new sales team member. Eugene Silvers is now the SEEPEX Industrial Sales Manager and Jason McPeek is the new Environmental Market Manager for the Northeast.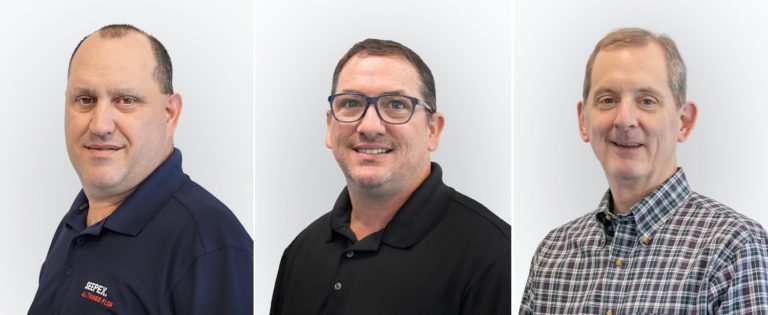 Eugene Silvers, Jason McPeek and Michael O'Grady. (Image source: SEEPEX Inc.)
Eugene Silvers -  Industrial Sales Manager
Gene Silvers has spent the past four years of his career at SEEPEX as a Territory Manager for the Midwest Region. During this time, Gene has proven to be a valuable asset to SEEPEX and has grown his territory with his strong background of selling and managing through channel partners. In Gene's new role as Industrial Sales Manager, he will be leading the Industrial Territory Managers into new growth opportunities in the industrial markets.
Jason McPeek  - Environmental Market Manager - Northeast
Jason began his time at SEEPEX working in the aftermarket service group in 2016. He has been an asset to SEEPEX customers and the sales team for many years. Jason transitioned into the inside sales representative role last year and has been working with both existing customers and potential new ones. All of his experiences at SEEPEX, and his work at a municipal plant prior to joining SEEPEX, has attributed to making him a great fit to join the environmental sales team.
Michael O'Grady - Industrial Territory Manager - Great Plains
Michael has joined SEEPEX as our, Industrial Territory Manager for the Great Plains region. He resides in Illinois and will be supporting our industrial partners in the SEEPEX Midwest region consisting of Minnesota, Wisconsin, Illinois, Indiana, Iowa, Missouri, Kansas, Nebraska and eastern areas of North Dakota and South Dakota.
Michael comes to SEEPEX from Verder Inc. where he was responsible for launching their line of hygienic pumps into the US market. Prior to Verder, he spent 19 years working for Alfa Laval, primarily managing their Sanitary Equipment division as well as their Industrial segments.