New Oerlikon Leybold Vacuum Logistics Centre at the Cologne Site
For the Cologne-based enterprise Oerlikon Leybold Vacuum, one of the major high-tech sources for vacuum pumps and systems, the planning company Dr. Schönheit + Partner; also based in Cologne, engineered the construction of a new, modern lean logistics centre.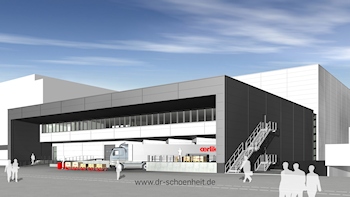 New logistics centre (Image: Oerlikon Leybold Vacuum)
The client decided to build new, modern logistics centre at the Cologne location in order to increase the efficiency of manufacturing the complete range of vacuum pumps by ensuring faster delivery times. This is of importance, as Cologne is the main hub for the international flow of goods to customers and subsidiaries worldwide.
The erection of the building's body shell is progressing daily at the existing plant in the south of Cologne and will be ready for the roofing ceremony already on April 26, 2013. Town Mayor Jürgen Roters has announced himself to honour this occasion.
The new building was deliberately placed at the heart of the surrounding production buildings so as to maintain short distances, cut waiting times and reduce door-to-door time for the products. Logistics is understood as a material supply service. The self-responsible worker is seen as the centre of process design. He is considered as a customer receiving his working materials based on the principle "Goods to the worker".
The design of the new building reflects the outer edges and heights of the already existing buildings. The different areas of the logistics warehouse are also clearly reflected by the architecture: the entire warehouse (automatic small parts warehouse, narrow-aisle storage facility and large palette store) as well as the functional area (entrance area with waiting zone, area for picking and incoming goods inspection, readying) differ clearly through different building heights and in differing facade design, yet forming a clearly unified complex. Design-wise, the administrative space on the second level of the functional area reaches over the incoming goods zone. The functional area is illuminated by natural light through a line of glass panels in the roof. The design of offices and staff rooms is based on this transparent approach so that bi-directional views to the marketplace are possible.
In this project, the whole performance range offered by Dr. Schönheit + Partner with the core competencies factory planning, architecture and project management in combination with restructuring of assembly an logistic processes is utilised.
Facts:
Total floor space including outdoor areas and incoming goods space: 3,900 square meter.
Construction period: 12 months including storage technology, scheduled for completion in October 2013, investment in the double digit millions.
Warehousing floor space: 1,904 square meter, functional area floor space: 1,224 square meter, floor space for administrative purposes: 478 square meter.