New Nord IE5+ Motor Generation
Highest operational efficiency: Compared to the current IE4 series, the new motor generation from Nord considerably reduces losses and achieves an efficiency that is significantly above efficiency class IE5.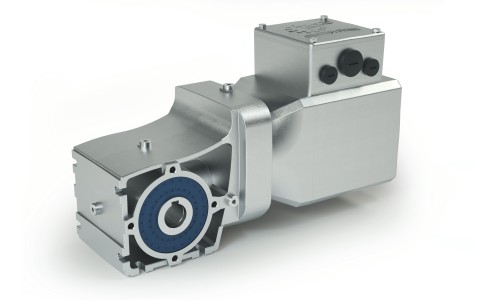 Picture: The new IE5+ synchronous motor from NORD sets standards in efficiency, power density and economy. (Image source: Getriebebau NORD GmbH & Co. KG NORD DRIVESYSTEMS)
The unventilated smooth surfaced motor achieves its high efficiency over a wide torque range, making it optimally suitable for operation in the partial load range.
Thanks to its hygienic wash-down design, it is easy to clean. It also offers a high corrosion resistance – ideal for use in hygiene-sensitive areas.
With its wide frequency range, overload capacity and high power density, the compact IE5+ motor is ideal for the reduction of versions. The reduction of the used drive versions results in considerable advantages for the user like minimised administrative expenses and leaner manufacturing, logistics, storage and service processes. In combination with the high efficiency, the TCO can be considerably reduced.
The new IE5+ motor can be combined with NORD gear units and drive electronics as a modular system and will be available from the second quarter of 2020. It will be initially launched in a size for power ranges from 0.25 to 1.1 kW with a continuous torque from 1.6 to 4.8 Nm. More sizes and powers will be gradually added.
At a glance:
Latest generation permanent magnet synchronous motor (PMSM)
Power range from 0.25 to 1.1 kW in a single size
IEC B14 flange mounting, IEC B5 flange mounting, NEMA C-face flange mounting, direct mounting to all NORD gear units
Continuous torque of 1.6 to 4.8 Nm in a single size
Speed range from 0 to 2,100 rpm
Optionally with nsd tupH surface treatment and IP69K protection class
Encoder integrated into the motor as standard; optional integrated mechanical brake