New Mouvex SLC-Series Eccentric Disc Pumps
Mouvex, a leading manufacturer of eccentric disc pumps and an operating company within Dover Corporation's Pump Solutions Group (PSG), announced that its new SLC-Series eccentric disc pumps deliver increased profitability and lower ongoing maintenance costs in the transfer of various chemicals due to its superior volumetric efficiencies.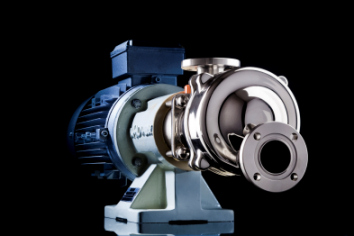 Mouvex SLC-Series
The volumetric performance of the new SLC-Series pumps—unlike gear and lobe pumps that lose efficiency as they wear—sustains high efficiency levels over time, resulting in productivity gains and energy savings.
Used in multiple fluid-handling applications within the chemical processing and distribution industries, the new Mouvex SLC-Series eccentric disc pump is unlike any other pump technology in the world. Capable of delivering high-volume efficiency while completely maintaining its gentle fluid-handling nature, the new SLC-Series is used to move a wide variety of products and materials.
The Mouvex SLC-Series pumps are designed to self-compensate for mechanical wear and maintain consistent flow over time. Other SLC-Series eccentric disc pump design benefits include seal-less construction; low shear and agitation of the pumped product; the capability of handling solids and abrasives; self-priming; line stripping; the ability to run dry for up to five minutes; and clean-in-place (CIP) capability. The eccentric disc technology produces the pumping performance of a positive displacement pump, creating a constant flow that is independent of both pressure and viscosity.
New SLC-Series pumps are ideal for handling thin, abrasive, aggressive and higher viscosity fluids. With their stainless-steel construction and high volumetric efficiency, they are tailor-made for chemical transfer applications. The pump line is available in stainless steel and ductile iron models capable of handling up to 10,000 cst (46,000 SSU) liquids and working pressures up to 130 psi (9 bar), depending on model.
About Mouvex
Mouvex was incorporated in 1906 and is a leading manufacturer of positive displacement pumps and compressors for the transfer of liquids or dry bulk products worldwide. Through a global network of distributors and original equipment manufacturers, Mouvex serves the following markets: refined fuels, oilfield, energy, food /sanitary, military, transport and chemical process. Mouvex—headquartered in Auxerre, France—is a member of Dover Corporation's Pump Solutions Group (PSG).