New managing director of German Water Partnership
Since 1st November Friedrich Barth new Managing Director of German Water Partnership (GWP) in the GWP office in Berlin.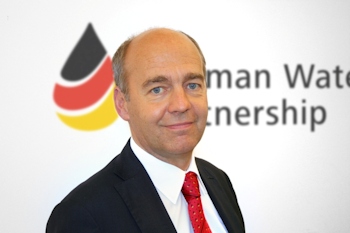 Friedrich Barth: new Managing Director of German Water Partnership (Image: GWP)
For more than twenty years Friedrich Barth has been working for public and private organisations in the policy fields of water, environment, energy and climate protec-tion, both on a national and an international level.
"With Friedrich Barth we have won a leader with many years of international experi-ence to further develop the GWP strategy. Particularly his strategic competence, his profound specialist knowledge and his networks will significantly advance the work of German Water Partnership." states Michael Beckereit, Chairman of the Board of Di-rectors of German Water Partnership.
Among other things Friedrich Barth held a leading position within the commission for the development of the European Water Framework Directive, as well as within the German development cooperation in the field of global business development at the German Gesellschaft für Internationale Zusammenarbeit, GIZ IS, or as a member of the managing board of IFOK GmbH, one of the leading consultancy companies for strategies and communication in the fields of sustainability, participation and dia-logue. Until lately he represented the United Nations Development Programme (UNDP) in Europe as a senior advisor for the Environment and Energy Group. As a cofounder and Vice Chairman of the Board of Directors of the European Water Part-nership Friedrich Barth also possesses broad knowledge in the field of international associations.
"Within the context of advancing the GWP strategy, and in close collaboration with the members, the partners and the board of directors I will expand the services for the members for purposefully and effectively exploring new markets in order to in-crease the German share in export markets." the new Managing Director Friedrich Barth declares.