New Life For An Old Pump
With its newly developed diffuser, the KSB Group has managed to lower by 20 dB the noise emission of a large pump produced 21 years ago in what was then the GDR.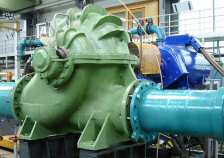 Photo: The test run in Frankenthal showed that the solid-borne sound has been reduced by as much as 20 dB. (KSB Aktiengesellschaft, Frankenthal)
The pump operates in the district heating pressure boosting station of a major utility company. On this pump and four others strong vibrations had become more and more frequent. This led to noise pollution affecting the living quarters in the company's neighbourhood.
Following the operator's request, one of the units was equipped with "new pump internals" as a trial. The pump was taken to Frankenthal, where it was subjected to hydraulic, vibration and noise tests on KSB's local test field. Based on the measurement results and the existing design documentation, the pump manufacturer's experts for hydraulic systems and acoustics designed a new diffuser and modified the impeller accordingly.
In the KSB Service Centre Halle, the new diffuser was produced in eight weeks, making use of "rapid prototyping". It was then installed in the pump, which had been completely overhauled. The test run in Frankenthal showed that the solid-borne sound has been lowered by as much as 20 dB, surpassing the aim of a 15 dB reduction. As a positive side effect the efficiency in overload operation has been increased by up to four points, which translates into additional energy savings.
The pump went online again in time for the heating period. Measurements taken at the site have confirmed the positive results measured on the test field.