New Interactive Web Site from Rietschle Thomas
To simplify life for design engineers, Rietschle Thomas has developed an easy-to-navigate, interactive web site www.rtpumps.co.uk: the home of what is now the widest standard product range of vacuum pumps and compressors in the industry.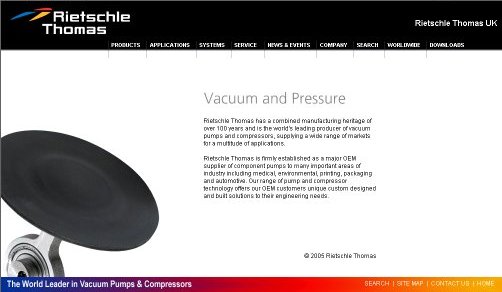 The structure of the web site reflects the company's aim of making its products and services equally accessible to designers, plant maintenance engineers and end users. For design engineers the OEM product selection guide includes vacuum pumps, compressors and liquid pumps from 0.1 l/min to 365 l/min capacity. It offers a selection of sophisticated, fully functioning CAD model pumps, some of which can be viewed as wire frame or 3D models and manipulated on screen. Two dimensional drawings, data sheets and exploded parts diagrams are also available.
A machine selection guide, covering vacuum pumps and compressors from 3 m3/h to 8500 m3/h capacity, gives engineers access to a calculation programme for pump selection and dimensioning. The programme incorporates interrogative calculation tables for flow and material data, as well as specific pump applications. Both of the guides draw from a central products database that is maintained by Rietschle Thomas factory locations worldwide. Engineers can be sure that the very latest technical information on every Rietschle Thomas product is always presented to them.
As well as the technical selection guides, pump choice can be made from a range of application categories, or by inputting basic performance parameters such as required levels of pressure, vacuum, and flow rates. Pump selection can also be made by choosing from operating principle, such as rotary vane, piston, side channel etc. Engineers can download pump data sheets, multilingual operating instructions and spare part lists.
An overview of the various pump technologies also includes animated working drawings that illustrate the operating principles. For maintenance engineers a comprehensive spare parts quotation system makes it easy to identify parts online. The system includes exploded spare parts diagrams, operating instructions and data sheets. It can be interrogated to select seals and wearing parts only – or all parts. Simple fill-in forms are provided for online completion.
Backing up the Rietschle Thomas around-the-clock service pledge, end users can contact the company via the Service section – including a 24 hour helpline and the company's PumpCare Plus and refurbishment schemes. News and Events also features a regular update on commercial and legislative issues affecting the market.