New In-House Toolshop Facility For AMi Designs
GRP tank cover designers AMi Designs are pleased to announce the opening of their new in-house moulding and toolshop facility, situated in the West Midlands. This new production facility is a logical progression for AMi as it extends and enhances their specialist civil engineering skills from design through to installation.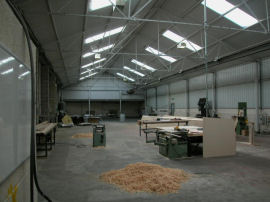 This new tooling facility enables the in-house development and production of wooden patterns, fibreglass moulds through to finished fibreglass parts as well as providing AMi with ability to develop and test new designs, and so represents an important part of the process of completing an increasing number of complex projects for a wide range of water and waste treatment customers. For example, specialist rotating tank covers for the Ballina Waste Water Treatment plant on the west coast of Ireland, handled in conjunction with the contractor Response Engineering. Pictured are examples of the patterns and moulds as part of this ongoing project, specifically for two 15.3 metre diameter rotating GRP covers and one 25.2 metre diameter rotating GRP cover.
Other projects successfully completed by AMi Designs include self-supporting GRP covers installed on storage tanks at Arthurstown Landfill site in County Kildare, Ireland, tank access covers for a Southern Water wastewater treatment site in Kent, GRP covers and baffle walls at the WS water and waste treatment site in Strabane, Northern Ireland in conjunction with Earthtech and the design and production of baffle walls for water and waste treatment sites at Liverpool water and waste treatment site.
AMi Designs co-directors Kevin Daykin and Darren Bishop commented: "This new toolshop facility consolidates our position as both a designer and manufacturer of innovative GRP cover designs at the most competitive prices, we have the ability to produce innovative designs, backed-up by in-house tooling and moulding facilities, through to fast and efficient on-site installations".
Further details are available from: Darren Bishop or Kevin Daykin at AMi Designs.
Tel: +44 (0) 1179 667712
sales@amidesigns.co.uk
Information about the company
AMi Designs Limited is a wholly owned subsidiary company and part of the AMI group. AMi Designs was founded in December 2000 to provide a large structural GRP cover supply service and a GRP cover design service to the liquid processing industries, to date while most of our work is with the UK water and waste water treatment companies our services have been employed by UK chemicals companies, UK brewing companies, UK tanning companies and Spanish Waste water treatment companies, French Cosmetics and Pharmaceuticals companies. The companies main administration office is based in Bristol with satellite offices based in our workshop units in Yorkshire, Northern Ireland and West Midlands.