New High-efficiency Circulator Made by KSB
At this year's ISH KSB presented its newly developed, maintenance-free, high-efficiency wet rotor pump (glandless) named Calio. The pump meets the energy efficiency requirements taking effect in 2015 already today.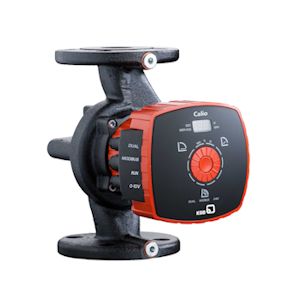 The new Calio pump meets the energy efficiency requirements taking effect in 2015 already today. (KSB Aktiengesellschaft, Frankenthal).
The new pump series consists of a total of 25 sizes; 12 of these in the power range from 10 to 175 W will be introduced during the first stage of market launch. The units deliver up to 13 cubic metres of fluid at a maximum head of 10 metres.
Thanks to the all-in concept with interfaces and pump functions already integrated as standard there are no extra costs for the communication links of the pump. Two single pumps, one used as duty pump, the other as stand-by, can be operated with automatic changeover in the event of a fault or with timer-controlled pump changeover.
In addition to the familiar modes of operation of constant-pressure control, proportional-pressure control and open-loop control, the newly developed operation software comprising an integrated energy-saving function called Eco Mode saves the user considerable operating costs.
The user interface combined with an integrated display and symbols indicating the operating mode add to the comfort of operation. The user is shown the current power input in watts and the flow rate in cubic metres.
The fluid temperature range from -10 °C to +110 °C makes the new pump sets suitable for a wide variety of applications, from heating water to refrigerants transport and industrial recirculation systems. The pumps are standard equipped with heat insulation. As an option, they can be supplied with diffusion-tight insulation for cooling applications. The compact pump in screw-ended or flanged design is easy to install, even in confined spaces.