New Generation of Sewage Lifting Units
At this year's SHK (Essen) and IFH (Nuremberg) trade fairs, the presence of the German pumps and valves manufacturer KSB will focus on the latest generation of its floodable sewage lifting units of the Compacta series.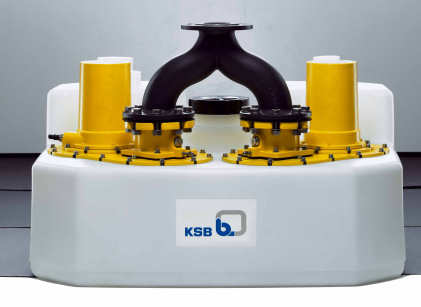 The eye-catcher at KSB's SHK and IFH trade fair stand is the latest generation of its Compacta floodable sewage lifting units.
They are the right choice whenever sewage is produced below the flood level. The microprocessor-controlled units are used for the disposal of sewage from toilets as well as washing and shower facilities in commercial, industrial and public buildings.
All switchgears and control units required for operation of the unit are included in the scope of supply. Thanks to the LevelControl control unit and an analog level sensor the unit's effective volume can be easily adapted to match customer-specific inlet conditions. The switchgears feature an integrated acoustic alarm. An additional volt-free signalling contact transmits fault messages to an alarm switchgear or directly to a control room.
The units can handle up to 140 m³/h of sewage, clean and dirty water, waste water containing fibrous matter as well as faeces at a head of 24.5 m. The continuous temperature of the fluid pumped should not exceed 40° C. For short periods, however, the units can also cope with wash or shower water with temperatures of up to 65 °C.
The pumps are equipped with free-flow impellers, which easily cope with any stringy substances in the sewage. The motors used are of robust design and have deep-groove ball bearings greased for life. Designed for intermittent operation S3 (50 percent), the motors can start up to 60 times per hour without suffering any damage, a feature that increases availability of the units. As a consequence, the units require smaller collecting tanks.
These are engineered as fully floodable gas-tight and water-tight plastic tanks, with volumes ranging from 100 to 900 litres. Integrated, standardized check valves keep noise levels during pump start-up down and protect the mechanical seals against damage from reverse rotation. In the case of duplex-pump units, they even allow maintenance work on one pump while the other pump ensures that normal operation is maintained.
When designing the new units, developers attached particular importance to a low planning effort and short installation times. A variety of inlet connections providing for various positioning options and diameters as well as an integrated collecting line simplify installation of the unit even when site conditions are most complex.