New Fixed Speed Booster Sets Launched By Armstrong
Armstrong's new range of fixed speed multipump booster sets are quicker and easier to install, and reduce capital and lifecycle costs.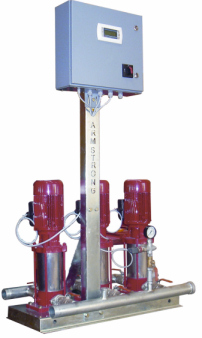 Armstrong
The Armstrong 6800 HMP range is suitable for sites such as schools, hotels, hospitals, golf course and industrial premises, and has specific design features making it perfect for high rise residential and commercial buildings. Incorporating PLC control and monitoring, they are available in 2, 3, 4 or 5 pump configurations, mounted on a stainless steel base frame with stainless steel headers. As the units are pre-assembled and tested prior to leaving Armstrong's factory (full hydraulic, functional and electrical testing) they can be quickly and easily installed. Featuring compact, space-saving design, the units are also built for modular disassembly if required, meaning that they can even fit comfortably through a standard doorway for both installation in new buildings and for retrofitting.
In terms of cost the 6800 HMP range scores highly in all three categories: sensible capital cost, low running costs and reduced maintenance cost. The flexibility of the system allows for operation of all pumps, or allocation of stand-by pumps. The system also incorporates automatic rotation of the duty pump to distribute wear evenly across the pumps, for a longer life with reduced maintenance requirement.
The range covers flow rates up to 80 litres per second up to 16 bar as standard. Units feature BMS connectivity, with pump run and trip outlets, and have LCD status indication.
The new fixed speed 6800 HMP range complements Armstrong's launch, during 2008, of a highly-successful range of variable speed drive multipump booster sets – the 6800 IVS Series – incorporating the innovative Soft Fill feature which prevents problems of hydraulic shock. Further booster sets are currently under development.