New fast motor load control avoids down-time of pump systems
The New Fast Response Digital Motor Load Control manufactured by Load Controls Inc (USA) monitors true motor power and detects common machinery problems such overloads, jams, obstructions, loss of load, sudden load changes, missing tools or misplaced parts.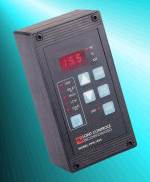 The PFR-1550 single set point control, with high or low trip, detects overload or loss of load while PFR-1750 two set point control can trip an alarm and stop the machine with independent relay outputs. The ROC-50 rate of change control is ideal for use with conveyers and material handling equipment and detects sudden changes in load. This sensor has a rate of change set point plus gross overload. The model CR-150 single point current sensor is also available for special circumstances where it is required to measure current gross overload only. All models have a 4-20mA output to send load information to instrumentation, computers, chart recorders or data logger's etc. In order to avoid the possibility of nuisance trips during use or at motor start up, all models also have adjustable digital start up and trip timers.
These sensors are housed in a compact rugged polycarbonate waterproof enclosure, with large digital display (HP or KW) plus keypad and can be mounted on a door, inside a control cabinet or surface panel mounted with included bezel kit. Settings can easily be seen on the digital display at the touch of a button. Electrical connections are made via convenient plug and socket terminal strips on the rear of the unit.
A unique range finder toroid is included to allowing fast easy set up of motors up to 50HP connected directly. Larger motors require optional current transformers to be used in conjunction with the range finder toroid.
This product range is designed to cope with the most difficult of motor load sensing tasks when other power sensors and motor load controls are unable to function reliably. The control and reliability of many process machines such as grinders, mills, mixers, rollers, pumps, compressors, conveyers etc may be improved dramatically by sensing true power instead of only current thus saving down time and loss of production. In practice, it doesn't matter however sophisticated the control computer system, its overall system performance is very much dependant on the sensors at the front end!!
Measuring power on the output of variable frequency drives is a special case, as voltage and current transformers do not work at low or high frequencies. In this case, waveforms on both the input and output of a drive, are distorted and will cause gross errors in the measurement of power. Where variable frequency or inverter drives are fitted the "V" Series Fast Response Motor Load Controls should be used in conjunction with the unique Universal Power Cell designed for this purpose. The UPC is fitted with "Hall Effect" sensors that are not affected by odd wave shapes or frequencies.