New Class: STREAMLINE SL-V 60 STD/Plus
The new STREAMLINE SL-V 60 extends the product range of High Pressure Pumps of KMT Waterjet and produce reliable high pressure for pure water and abrasive applications.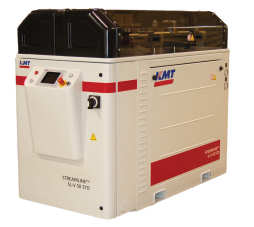 In doing that, we met our customers' requests for a 45 kW- power rating, which we understand very well. Depending on the particular application, the cutting system is configured with just the right power rating. This increases the production efficiency and ancillary capacity can be planned much more efficiently. STREAMLINE SL-V are available as Standard or Plus units with power ratings of 11kW, 22kW, 37kW, 45 KW, 55kW 75kW and 145kW. A real innovation is the new Moeller Touch Screen control, which is part of all the classes of the SL-V 30-100 series since 2008. Independently of the design of the cutting machine, the pump can be operated separately or integrated into a central control unit. The Standard offers optimal cutting pressures of up to 3.800 bar, the Plus offers the best cut quality by up to 4.150 bar.
Single Intensifier Concept on all Pump Sizes
STREAMLINE High pressure pumps are the only range of pumps to use a single intensifier concept for all power ratings up to 75 kW. In comparison with products running with two intensifiers for more than 37kW, this construction brings significant savings in terms of operating and service costs. In addition, the pump can be networked with other intensifiers.