New Blackmer CRL Sliding Vane Pumps Set
Blackmer announces that — in response to specific requests from major CO2 marketers for a more durable pump that is capable of handling the higher working pressures found in liquid CO2 service — it has designed its CRL Series sliding vane pumps to provide maximum performance and reliability under the most severe CO2 service conditions.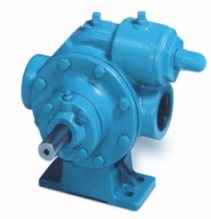 Blackmer
Design criteria inherent in CRL pumps include the ability to easily handle dry, non-lubricating CO2 at sub-zero temperatures with differential pressures up to 100 psig (6.89 bar) while operating on a continuous 24-hour duty cycle with minimal maintenance and inspection requirements. The CRL is the result of four years of intensive research and development, and more than 30,000 hours of combined laboratory and field testing. The pumps utilize Blackmer's standard-setting sliding-vane design, which offer the best-in-class characteristics of sustained high-level performance, energy efficiency, trouble-free operation and low maintenance costs.
Also setting the CRL pumps apart are the presence of Blackmer's patented cavitation-suppression liner, which has been designed to reduce the noise, vibration and wear that can be caused by entrained vapors. Other features of the CRL Series are replaceable casing liners and end discs, ductile-iron construction, an internal relief valve, mechanical seals, external ball bearings and two-piece threaded lock collars.
CRL pumps are available in 1.25-, 1.5, 2-, 3- and 4-inch port sizes with capacities that range from 5 to 300 gpm (19 to 1,134 lpm) with working pressures up to 500 psig (34.47 bar) and operating temperatures as low as -30°F (-34°C).