New Astro 20F and BF Wet Rotor Circulators
Armstrong, a global supplier of fluid flow equipment for residential, commercial and industrial applications, is pleased to announce the launch of the new Astro 20F and BF flanged circulators in bronze and cast iron.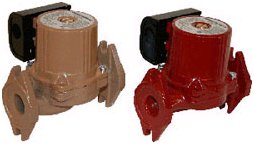 With the addition of the new Astro 20F and BF, all Astro series circulators are now available with common two-bolt mounting flanges. This mounting arrangement allows for easy circulator installation and subsequent removal and replacement.
The Astro 20F is targeted for hydronic heating applications requiring low flow and low head, such as injection pumps for radiant installations. The primary application for the Astro 20BF is domestic hot water recirculation.
Additional features of Astro series circulators include:
New screw-less terminal strip providing level-operated spring clamps that grip each conductor of the electrical cable. This provides ease of connection of the electrical connections inside the box.
New smaller terminal box, flush with the top of the motor providing ease of installation into tight spaces.
Available in bronze or cast iron versions.
Compatible with Armstrong's CIF series of circulator isolation flanges.
For more information on the Armstrong Astro 20F and BF flanged circulators or any other Armstrong products, please visit the company's web site.