New Armstrong Parallel Sensorless Controller Coordinates Up to Four Pumps for Optimum Efficiency
The new Parallel Sensorless Pump Controller from Armstrong Fluid Technology coordinates the operation of up to four Armstrong variable speed pumps to offer superior energy efficiency at a reduced first installed cost.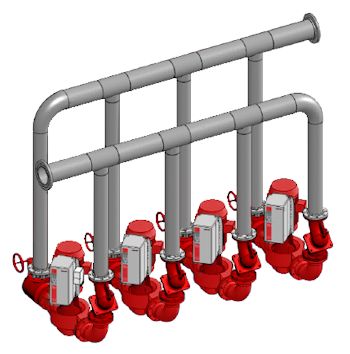 Armstrong Fluid Technology
By automatically ensuring best efficiency staging, the new technology can improve pump efficiency in parallel pumping applications by as much as 35%. In addition, as the Armstrong pumps incorporate on-board inverters, and do not require the remotely mounted sensors, they can cut installation costs significantly at the same time as reducing overall project risk.
The Armstrong Parallel Sensorless Pump Controller (PSPC) is an innovative add-on control device ideally suited to applications requiring two, three or four Armstrong DE IVS variable speed pumps configured in parallel. The traditional approach with other manufacturers' pumps is to buy loose, racked or panel-mounted drives, requiring installation, along with one or more remotely mounted sensors which need to be installed in the system and wired in. In contrast, the Armstrong DE IVS pumps incorporate on-board inverters, capable of adjusting automatically to changes in load. The control technology resident in the new Armstrong PSPC enables it to balance demand across the multiple pumps to operate each at its most efficient point to meet the load. The variable speed intelligence embedded in the controller calculates best efficiency staging and causes each pump to respond instantaneously and automatically.
As the inverter and control technology is resident within the pumps and the controller there is no need for remote sensors (saving in the region of £950 in the case of a four-pump application) at the same time as simplifying installation and eradicating the risk of under-performance due to inaccurate sensor placement.
The controller integrates easily with BMS control products such as Modbus, BACnet and LonWorks. Most importantly however it improves upon the pump staging capability commonly available via BMS (typically based on 55% minimum and 95% maximum speed thresholds) providing energy savings of around 25% to 35%, and minimising noise and vibration.
The launch of the Armstrong PSPC means that there are now control solutions for the full range of pump configurations typically encountered in UK commercial buildings: single pump (Armstrong DE IVS); parallel pumping, or pumps with full-duty stand-by (Armstrong DE IVS pumps with PSPC); and multiple pump/multiple zone pumping (Armstrong pumps with IPS-9000 Series controller). The Armstrong PSPC also extends on-board control of parallel pumps way beyond the current upper limits offered by other manufacturers, offering fully integrated control up to 315kW.