New ARMflo E30/E30B and E33/E33B Circulators
Armstrong, a global supplier of fluid flow equipment for residential, commercial and industrial applications, is pleased to announce the launch of the new ARMflo E30 and E33 Circulators.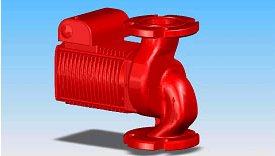 The ARMflo E30 and E33 are based on a new 2/5 hp, fan-cooled, 120 Vac motor, and are available in either cast iron or bronze construction. These new circulators provide a very flat performance curve, ideal for multi-zone hydronic heating and chiller applications to maintain stable system head as various zones are opened and closed. They are suitable for custom residential or light commercial boilers with output ranges of up to nearly 1,000,000 BTU. The E30 and E33 circulators have an open drip proof (ODP) motor enclosure, enabling them to pump fluids at pressures up to 150 psi and temperatures up to 230F (110C).
Features of ARMflo circulators include:
Quiet, reliable and maintenance-free service
Available in both cast iron and bronze models
"One-for-all" silicon carbide seal - used on all E Series circulators
Designed for medium head, high flow rate installations
Ideal for multi-zone systems
High-efficiency operation saves energy costs compared to competitive circulators of similar power
Includes a snap bushing/slotted shaft for easy servicing of mechanical seal when required
Armstrong is a leading global supplier of quality HVAC and Fluid Flow equipment for residential, commercial and industrial applications. Established in 1934, the company maintains eight manufacturing facilities on three continents and serves customers in over 50 countries.