Moyno Releases New Brochure on Moyno 2000 CC Pump
Moyno, Inc., a unit of Robbins & Myers, Inc., released a new brochure featuring its latest product addition, the Moyno® 2000 CC Pump. It is designed for municipal and industrial applications where close-coupled configurations are preferred, but the robustness of a gear joint drive is needed.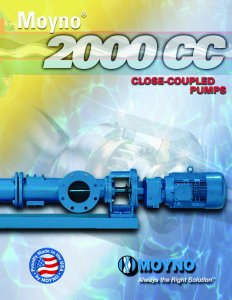 The four-page full-color brochure highlights the Moyno 2000 CC series pump which features a sealed gear-type universal joint drive train and optimized rotor/stator pumping element geometry. The product brochure provides technical information on the 2000 CC Pump's features and benefits that result in overall cost-efficiency. The Moyno 2000 CC Pump provides unmatched performance in a competitively priced, compact, close-coupled configuration.
The brochure also details the benefits of the rugged gear joint drive that offers durable and dependable pumping action for long service life and low total cost of ownership. All internal Moyno 2000 CC parts are interchangeable with other Moyno 2000 pumps for easy, economical replacement parts inventory management.
Moyno, Inc. is a leading manufacturer and marketer of Moyno progressing cavity pumps, multiphase fluid transfer systems, grinders and controls. It has an extensive worldwide stocking distribution network that serves a wide range of industries including water and wastewater treatment, pulp and paper, chemical, food, pharmaceutical, mining, petrochemical and oil and gas recovery. Moyno, Inc. is a unit of Robbins & Myers, Inc.