Moyno Releases Interactive CD at 2005 Worldwide Food Expo
Moyno, Inc. will exhibit their extensive line of Moyno® pumps, Annihilator™ grinders and AugMentor™ pump stuffers at booth #N119 at the Worldwide Food Expo, held October 26-29 in Chicago. In addition, Moyno, Inc, will release a new, food industry specific, interactive CD that contains application and product information.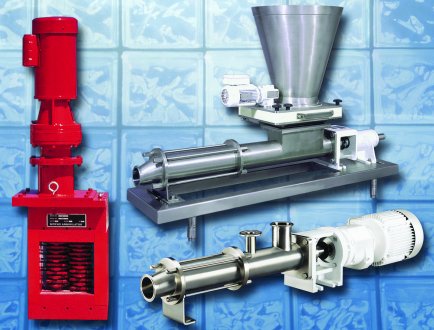 Moyno Annihilator Grinder, AugMentor Pump Stuffer and Sanitary Pump (photo: Moyno).
The interactive CD will show video footage of Moyno pumps in actual food processing applications. Specific products manufactured and marketed by Moyno that will be showcased at the Worldwide Food Expo in the interactive CD include:
Moyno Sanitary Pumps - ideal for any application where bacteria and contamination must be avoided and/or frequent clean-up is required. Exclusive features include standard mechanical seals and all 150 standard models meet 3A sanitary requirements with no modifications necessary. A combination close-coupled/open throat design is offered in a standard model. Moyno's Sanitary Pump efficiently handles thin liquids like soups and juices as well as viscous slurries like peanut putter, candies and jam.
Moyno AugMentor Pump Stuffer - handles high-viscosity materials otherwise unpumpable by conventional means. Materials in excess of 1,000,000 cps, such as cold processed meats, are easily fed by the AugMentor's slow-speed, bottom-drive auger to eliminate all obstruction and to ensure continuous positive feed of the food item into the pump for cost-effective performance.
The Moyno Annihilator Grinder - a twin shaft solids reduction unit designed for trouble-free performance in continuous operation. The Annihilator grinder's rugged construction is ideal for grinding agricultural products such as corn for cattle feed or ethanol production, green beans, peas, oranges and many other food items. The Moyno Annihilator offers quieter operation compared to conventional hammer mills.
The Moyno 500 Sanitary Pump - offers low flows and high performance in a compact, cost-effective size, yet provides all the performance benefits of the Moyno progressing cavity pump.
Moyno, Inc. is a leading manufacturer and marketer of Moyno progressing cavity pumps, multiphase fluid transfer systems, grinders and controls. It has an extensive worldwide stocking distribution network that serves a wide range of industries including water and wastewater treatment, pulp and paper, chemical, food, pharmaceutical, mining, petrochemical, and oil and gas recovery. Moyno, Inc. is a unit of Robbins & Myers, Inc.