Moyno Pumps Proven Effective in Biofuels Industry Applications
Moyno offers high solids handling pumps for critical application in the biofuels industry. These high performance pumps dramatically reduce the costs of transferring biomass slurries and DDGS by-products when compared to expensive, maintenance-prone conveyor systems.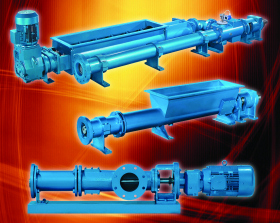 Moyno Inc.
Moyno high solids pumps provide significant technology advancements that result in superior performance and long service life for ethanol plants, grain processors, distilleries and feed mills. Moyno high solids pumps:
Eliminate odors and spillage typically found with open conveyor systems
Reduce capital costs by using a closed pipe system and a Moyno pump
Reduce maintenance costs because a Moyno pump has fewer moving parts than a conveyor system
Extend service life because high solids handling Moyno pumps easily handle abrasive and corrosive applications such as DDGS by-products
About Moyno
Moyno, Inc., a part of the Fluid Management Group of Robbins & Myers, Inc., is a leading manufacturer and marketer of Moyno progressing cavity pumps, multiphase fluid transfer systems, grinders and controls. It has an extensive worldwide stocking distribution network that serves a wide range of industries including water and wastewater treatment, pulp and paper, chemical, food, pharmaceutical, mining, petrochemical, biofuels and oil and gas recovery.