More than a New Micro Pump Model
thinXXS GmbH announced the launch of their new micro pump model MDP1304. It features considerably improved performance and reliability. At the same time, it is a powerful demonstration of the underlying platform concept.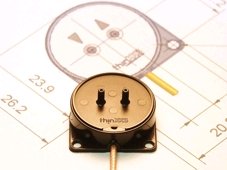 On the outside, the MDP1304 looks very similar to its predecessor. Yet, underneath the surface, a number of changes were carried through, which led to a remarkable push in overall quality. The success is mainly the result of the platform concept which allows to speed up the innovation in development and to render production more efficient and economical. As a consequence, the MDP1304 is but the first in a row of models which are presently under preparation.
The platform concept is similar to what is known from the automotive industry, where various models are realized on the basis of a set of parts which remains unchanged no matter how different the products' properties are. In the case of thinXXS' micro pumps, the flexibility is due to the complexity of the process parameters. Small changes here and there can make a world of difference and hence lead to new pump models.
"In the past six months we have evaluated the relevant application and market segments", explains Sales Manager Robert Pischler. "The clusters we identified made it easy to come up with a list of what the technical specifications of our next models will need to be." And General Manager Hans-Joachim Hartmann adds: "The platform concept renders us extremely flexible in adjusting our pump technology to customer-specific requirements like flow rate, back pressure, shape, or material properties."
About thinXXS GmbH
thinXXS GmbH, Zweibrücken/Mainz, Germany, produces and develops microfluidic and microoptic components and systems in plastics. The company with its workforce of more than 30 people is located in the southwest of Germany, namely in Zweibrücken (production) and Mainz (sales & development). thinXXS offers several microfluidic systems such as micro diaphragm pumps, their customization or integration into OEM products, as well as comprehensive contract services in product development and production. Among the markets which profit from our high-tech solutions are the life sciences, medical technology, or automation.