More Than 2,500 Pumps Available in One Click
www.rtpumps.com is the domain of the completely new website from Rietschle Thomas. From this address you are directed to the single websites of the group companies and factories. At the centre of the website is the common central product database that offers up to date information about all the Rietschle Thomas products.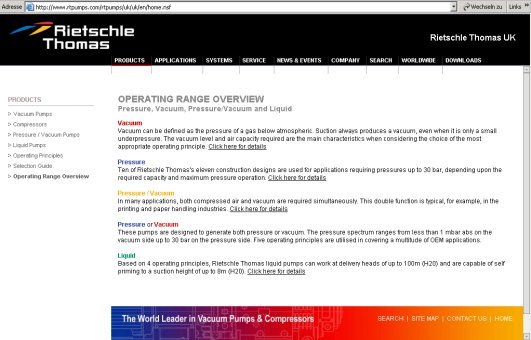 On www.rtpumps.com, in the database you will find detailed information of eleven different pump principles for air, gas and liquids and more than 2,500 pumps in about 19,000 documents. The performance range varies from 0,1 l/min to 8500m³/h flow and from 10-2 mbar to 30 bar pressure.
In the overviews functional graphics of the performance range, animations and explanations enable the user to quickly find the required information. There is exact performance data, product features, data sheets for download, photos and drawings.
The pumps can be chosen by three sophisticated search functions: By product, by special applications and by performance data. The search functions are simple and reliable so that the user will find the appropriate pump easily. Additionally, there are direct contacts details of Rietschle Thomas experts on offer.
The website is completed by a company profile with contact addresses and directions, links to all factories, group companies and distributors worldwide, brochures for download, as well as an overview of the trade fairs where Rietschle Thomas exhibits.
The common domain is named www.rtpumps.com, the websites of Rietschle Thomas Puchheim and Memmingen are found under www.rtpumps.com/puc and those of Rietschle Thomas Schopfheim under www.rtpumps.com/sch.