Mobile Dosing Station for Liquid Disinfectants
This ready-for-use mobile dosing station is mainly applied for the dosing of liquid disinfectants when conditioning fresh and well water as well as wastewater. It may be used in industrial applications, water treatment plants, wastewater treatment plants, and in swimming pools.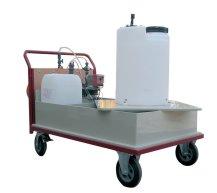 (Lutz-Jesco GmbH)
All components of the dosing station are mounted on a platform trolley with a loading area of approx. 1,000 x 700 mm. A PP collecting basin accommodates the disinfectant tanks. The dosing pump is located at the extended back board of the basin. Specially designed guards protect discharge tubing and power cord from stress, due to accidental maneuvers of the car.
The solenoid-driven diaphragm dosing pump MAGDOS DX as an integral part of the station can be used universally and communicates with all standard control signals.
Accessory is integrated for an optimum operation:
The priming aid AHP with integrated pumping device facilitates priming as the dosing head of the pump receives the liquid to be dosed directly. Disturbing gas bubbles are collected in the priming aid.
The multifunction valve PENTABLOC features five functions for a reliable operation of the MAGDOS: backpressure function, antisiphon function, safety valve function, pressure relief function and dosing monitoring function.
Supply tanks from 60 to 500 l capacity are available. Those tanks may be equipped with hand mixers or electrical agitators and suction line assemblies with low level indication/switch. Furthermore, tubing, injection nozzle, ball valves, and connections are integral part of the station. Optional a drum pump can be mounted in a bag at the front wall.
Such a mobile system is also available in a smaller version, but would be applicable only for dosing out of drums. Also available are mobile stations with double diaphragm pumps.