Metcar Standard Cast Iron Flange Block and Pillow Block Assemblies
21.05.2008
Metallized Carbon Corporation supplies standard, cast iron pillow blocks and flange blocks with self-lubricating, carbon-graphite bearing inserts for applications where oil/grease lubrication cannot be used.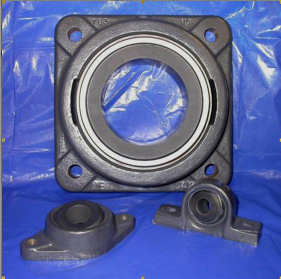 Metallized Carbon Corporation
These bearing assemblies provide low friction and long, maintenance-free, wear life in high temperature applications where oil/grease lubricants would melt, volatilize, or carbonize.
Applications include hot air dampers and butterfly valves for power plant boilers. These bearings are also ideal for high temperature conveyors for drying, heat treating, baking, and annealing. They are also excellent for ash drag out conveyors, kiln car wheel bearings and stoker bearings.
Rugged cast iron housings are used to hold steel encased, carbon-graphite bushings. Two bolt pillow blocks are available for shaft sizes up to 3-1/2 inch diameter. Two bolt flange blocks are available for shafts up to 2-1/16 diameter. Four bolt flange blocks are available to shafts up to 5 inch diameter.
Three Metcar carbon-graphite grades are usually supplied: the Metcar Grade M-11, carbon-graphite, for light loads at temperatures up to 700° F, the Metcar Grade 1515, copper impregnated carbon-graphite, for higher loads at temperatures up to 750°F and the Metcar Grade 2500, high temperature electro-graphite, for temperatures up to 1000°F.
Desirable features include self-alignment to 5 degrees from center-line, a replaceable bearing cartridge and two standard lengths to accommodate a normal load or high load. These grades are also interchangeable with most standard ball bearing pillow blocks and flange blocks, and can be modified to carry thrust loads.
About Metallized Carbon Corporation
Since its inception in 1945, Metallized Carbon Corporation has been manufacturing high-quality, dependable bearing solutions for severe operating environments. With over 60 years of Application Engineering experience, Metallized Carbon offers the field expertise and data necessary to provide The Solid Choice for Lubrication™ in a wide variety of industries, supplying completely machined components as well as materials for customer machining. Metallized Carbon is ISO certified and produces the Metcar® brand of solid, oil-free, self-lubricating materials.