Merger of Commercial Building Services Brands
Howard Anderson announces the launch of its new brand Holden Brooke Pullen. With effect from 8th September 2003 Howard Anderson will, in line with its continued growth strategy within the Building Services market, consolidate its two large commercial building services brands, Pullen and Holden and Brooke into one new powerful brand, Holden Brooke Pullen.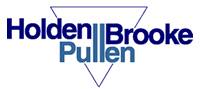 The new brand builds on the experience of these two prominent companies in terms of technical expertise, market knowledge, customer relationships and strong market brands and now brings together the very best in products, processes and people. This powerful combination presents a new dynamic force to the market place and represents the next stage in Howard Anderson's strategic programme to expand its offering in the provision of international fluid handling solutions and deliver customer service excellence.
Baric Pumps will continue to grow as a prominent brand in the light commercial sector of the Building Services Market and remains a key element of Howard Anderson's Building Services Growth strategy.
Pullen Pumps currently based at Beddington Lane in Croydon will move to a new dedicated Holden Brooke Pullen sales, engineering and service operation based in Redhill with effect from 1 September 2003. Located in the South East and close to main road, rail and air operations, this facility provides an excellent base for the continued development and support to our customers located in the South East, nationally and internationally. The new site in Redhill will form the hub for the company's planned growth in the provision of After Sales Service.
In line with the these exciting changes the company has launched a new web site (www.holdenbrookepullen.com) which gives dynamic up to date information about the company, its products, downloadable electronic documentation and ongoing development.
The above changes represent a major step forward in the continued growth and development of Howard Anderson and it 's key building services operations.