Market for Water and Wastewater Treatment Chemicals in China Will Be $5.7 Billion
China will be the leading purchaser of water and wastewater treatment chemicals in 2015. Purchases will exceed $5.7 billion according to the latest forecast in McIlvaine Water and Wastewater Treatment Chemicals World Market. Corrosion inhibitor purchases alone will exceed $1.4 billion.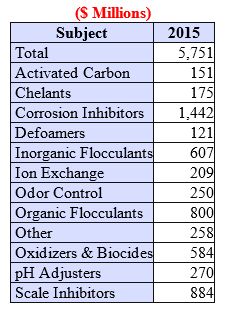 McIlvaine Company
One of the big drivers in China is the coal sector.
To put this forecast into perspective, the U.S. is the second largest coal producer at 1 billion tons per year. China is building a number of coal-to-chemicals and fuels plants which will use 1.5 times as much coal as the entire U.S. power industry. The total coal consumption in 2025 will be more than five times that of the U.S.
The Chinese program for conversion of coal to pipeline gas involves large treatment chemical expenses. The coal is being mined in relative arid northern and western regions. Zero liquid discharge will be a high priority, so flocculants, scale inhibitors and pH inhibitor expenses will be substantial. Corrosion control chemical expenditures will be very sizable. The main conversion technology will utilize indirect gasification which creates a number of corrosion control challenges.