Major Contract for Newly Built Indian Power Station
At the end of 2005, the KSB Group was awarded a contract from the Russian plant engineering company, Power Machines, for the supply of pumps to be employed in a steam generating station in Barh in the Indian state of Bihar, worth several million euros.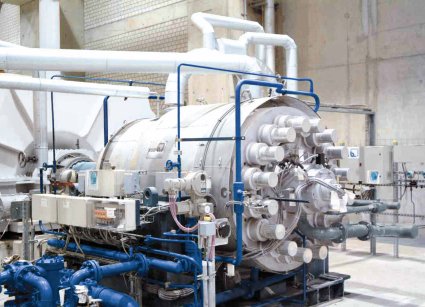 Turbine-driven feed pumps, as they will be in operation at India's most modern coal-fired power station (photo: KSB Aktiengesellschaft, Frankenthal).
The "National Thermal Power Corporation" (NTPC) is currently building this ultra-modern coal-fired power plant in cooperation with the Russian plant engineering company. The so-called supercritical steam plant will comprise three blocks, each reaching a power output of 660 megawatts. This type of power plant achieves efficiencies above average and places extreme demands on the construction itself and the pumps' materials due to its high operating pressure and temperatures.
The order comprises 18 pump sets consisting of nine turbine- or electric-driven boiler feed pumps and nine condensate pumps. The biggest pump sets have a drive rating of 18,000 kW each and generate a discharge pressure of 320 bar. KSB's proven track record with similar pumps already doing service in the Sipat power station in the Indian state of Chattisgarth, which was also awarded by Power Machines to the German pump manufacturer, helped win this order.
The machines will be delivered in three shipments from April 2007 to April 2008.