Low Cost Peristaltic Pump with Intricate Technology
Rietschle Thomas in Puchheim is now offering a low cost peristaltic pump, namely the new SR15 series, with an intricate technology.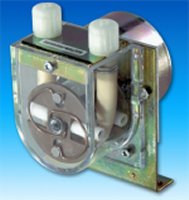 SR15
For the core piece of the pump Rietschle Thomas is relying on proven technology: here the roller carrier from the renowned SR25 series was incorporated. This carrier allows for a self-adjusting distance between the housing and roller thus protecting the tubing from excessive wear and tear.
With this type of roller carrier assembly Rietschle Thomas knowingly separates itself from all other peristaltic pump manufacturers within this price range. Spring-mounted rollers compensate for the usual manufacturing tolerances and the tubing is only strained as much as necessary. In addition, lateral rollers ensure correct guidance of the tubing.
A threaded hose coupling rounds out the robust pump which is suitable for flow rates up to 40 ml/min (at a pressure head of up to 10 m WC). Two standard versions of the SR15 with a 230 V/50 Hz motor – either Novoprene or silicone tubing – are available and in stock.
The dosing of detergents and disinfectants, for example in the chemical and medical industry, laboratory and analytical field as well as food and cleaning industry, is a typical application for this new peristaltic pump.