Latin American Brewing Success CCN Achieves Environmental and Commercial Benefits with Green Energy from Wastewater
One of the success stories of beer brewing in Latin America, Compañía Cervecera de Nicaragua (CCN), is embarking on an environmental initiative that will see it harvest green energy from waste water to replace fossil fuels while achieving much cleaner effluent.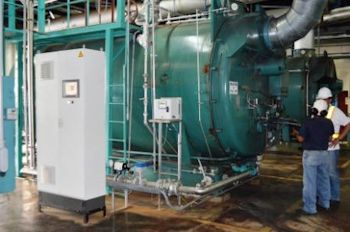 A view of GWE's biogas reuse system installed at one of the CCN boilers. The new panel and the oxygen analyzer are visible (Image: GWE)
CCN, founded in 1926, is Nicaragua's biggest brewery. One of its beers – the Toña, launched in 1975 – has more than 85 per cent market share in Nicaragua and it is exported to the US. Toña has become a national symbol in its own right, featuring on its label the volcano San Cristobal and the legendary railway to the sugar mill of San Antonio.
The company commenced this year the installation of a brand new GWE wastewater treatment and biogas reuse plant at its brewery in Managua.
At CCN, GWE has designed and installed an anaerobic reactor incorporating ANUBIX-B technology for 13 tons of COD throughput per day, as well as a biogas reuse system in one of CCN's boilers, which allows CCN to save up to 3,000 kg of fuel oil per day. A revamp of the plant's aerobic and a complete sludge dewatering systems have also been included in the current project.
The long distance of almost 1 km between the waste water treatment plant and the boiler room has represented an additional challenge which was successfully tackled by using GWE's drying system, GASODRIX. This allowed the client to use an existing pipeline at the plant without intermediate draining points. The plant is currently being commissioned for service.
The CCN project is GWE's second in Nicaragua, after two large ANAMIX-M digesters fed on molasses vinasse which have been installed at the plant of the famous rum Flor de Caña.