KSB Secures Spanish Water Supply
At the end of this year, the KSB Group will supply numerous water extraction and transfer pumps for the water supply system of the city of Santander along the northern Spanish coastline. The order is for twenty pumps of ...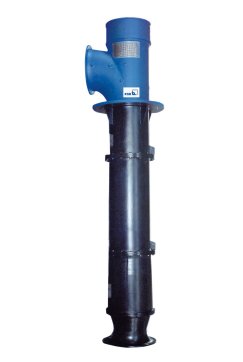 Tubular casing pumps type SNW will soon pump up the drinking water for the Spanish city of Santander from the Ebro reservoir (KSB Aktiengesellschaft, Frankenthal).
... different type series. Four tubular casing pumps, each with a capacity of 3000 cubic metres of water per hour, extract the water from the reservoir fed by the river Ebro and transfer it to a storage tank situated at an altitude of thirty-eight metres.
From there, four double-entry volute casing pumps type RDLO, each with a capacity of 2,940 cubic meteres per hour, pump the water across the Cantabrian Mountains. After overcoming the geodetic altitude, the water, through force of gravity, continues its journey to Santander through a network of pipes.
The Ebro reservoir, a UNESCO-backed biosphere reserve, has a unique ecological system consisting of a great variety of plant and animal species. In order not to disturb the ecological balance of the reservoir, operators have to replenish the water taken out of the reservoir within the following three years.
Twelve additional high-performance pumps, installed in a total of four pumping stations, take care of this. These so-called recovery pumping stations only start operating when the rivers feeding the reservoir hold so much water that there is no risk of the ecological balance being disturbed. KSB received the order because the manufacturer was able to submit numerous international references, and because their pumps had the highest efficiencies.
The city on the North Spanish coast needs the new water supply system because its demand now exceeds the volume of drinking water previously obtained from the rivers of the Cantabrian Mountains.