KSB Opens New Factory in Brazil
On 18 April 2013, pumps and valves manufacturer KSB has inaugurated its new factory in Jundiaí, Brazil, some 50 km north of São Paulo.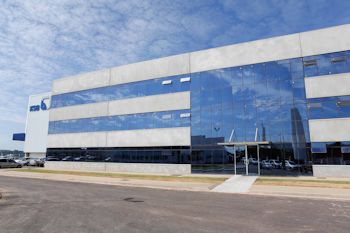 KSB production facility in Jundiaí (Brazil)
(Image: KSB Aktiengesellschaft, Frankenthal, Germany)
The location, designed as a production site for standard pumps and valves, will begin by manufacturing ball, gate and globe valves. Once the valve production is up and running, the company will start supplying the market with standard pumps from the new location. KSB has been present in Brazil with a factory since 1954, currently has a workforce of 933, and recruits the majority of its customers from the chemical and petrochemical industries, from general industry and the water management field. The company supplies its valves above all to Brazil's oil and gas sector.
The new factory, which has so far cost KSB € 15 million, measures a total of 100,000 square metres and accommodates two spacious production shops equipped with modern machinery, an administration and a social building. By design, all work areas offer the initial workforce of 123 the means and equipment to work energy-efficiently and with as little impact on the environment as possible. The company makes use of solar energy, waste water treatment and a rainwater storage system.
KSB already manufactures pumps at their location in Várzea Paulista in the state of São Paulo. The required castings are made at the company's foundry in Americana, 80 kilometres from Várzea Paulista. The Brazilian pumps and valves market continues to grow and is expected to increase by 20% in less than five years.